Cable crosses are typically worked on right-side rows. But what if Stitch-Maps.com is asked to draw a cable cross on a wrong-side row? What should it do then?
Take 2/2 RC, for example.

It's defined as "Slip 2 sts to cn and hold in back, k2, k2 from cn" – that is, knit all the stitches. That's why the symbol contains four little vertical lines: each is meant to represent a knit stitch.
But if 2/2 RC is placed on a WS row via written instructions like these:
Row 1 (WS): K4, 2/2 RC, k4.
Then the symbol doesn't make sense anymore. Knitting on the wrong side creates purl stitches on the right side. If you maintain that symbols ought to show the right-side view of each stitch – as I really, truly do, because that's how you get charts that resemble knitted fabric – then the symbol you'd need to display would look something like this, which uses dots to stand in for purl bumps:

So far, the approach I've taken at Stitch-Maps.com has been to define symbols for representing both the right- and wrong-side view of each stitch. In many cases that's been pretty easy, because many stitches come in RS/WS complement pairs: knit is the flip side of purl, M1L is the flip side of M1Lp, and k2tog is the flip side of p2tog.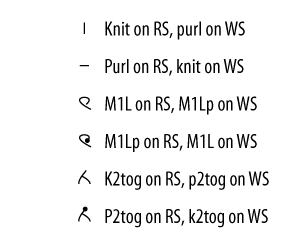 In a few cases, I've had to invent some symbols – for example, to represent Japanese cluster stitches like yo-k2-pyo when worked on the wrong side rather than the right side.

But is this the right approach for cable crosses? Does Stitch-Maps.com really need right-side and wrong-side versions of 48 cable cross symbols? I have to imagine that having 96 cable cross symbols – half of which would rarely, if ever, appear in a stitch map – in the key would make the key unbearably long and difficult to wade through.
So here's what I propose. For starters, Stitch-Maps.com won't try to draw cable crosses on wrong-side rows. Rather, when asked to do so, it'll display an error message like this one: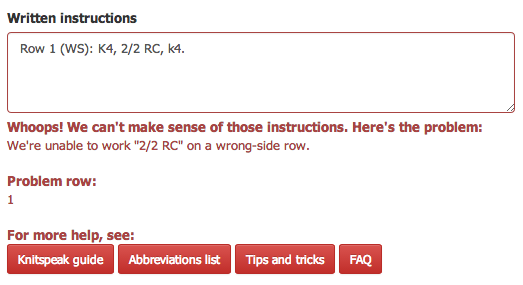 If this proves too limiting, additional symbols can be added to the key later, on an as-needed, case-by-case basis. In the meantime, if anyone really wants cable cross symbols to appear on both odd- and even-numbered rows, it would be possible to enter the stitch pattern as a series of all-RS rounds, not alternating right- and wrong-side rows.
Your thoughts?