Knitting is an endless source of fascination for me. It's just loops of yarn, but what you can do with those loops! Sweaters, socks, hats, mittens, and scarves. Bold cables, ethereal lace, and fluffy brioche.
Teaching is an excuse to delve deeply, to study the myriad ways of knitting a mitten thumb, turning a heel, or simply casting on. But the best part of teaching is catching the "ah ha!" lightbulb moment as a student suddenly grasps a new concept.
To make my students successful, I aim to:
accomodate each knitter's knitting style, learning style, and skill level
adapt the class material to meet the particular interests of each group
provide comprehensive, illustrated handouts for use in class and at home
leave plenty of time for hands-on practice
Does one of the classes below intrigue you? See if it's currently listed on my schedule. Or contact me to schedule workshops for your yarn shop, guild, or fiber festival.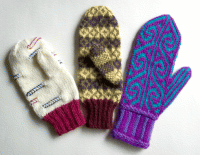 Mittens are great portable projects. Since they don't require much yarn, they're also great stash-busters. The only tricky part is the thumbs. Learn a handful of thumb options in this class, from the simple to the anatomically correct.
---