Knitting is an endless source of fascination for me. It's just loops of yarn, but what you can do with those loops! Sweaters, socks, hats, mittens, and scarves. Bold cables, ethereal lace, and fluffy brioche.
Teaching is an excuse to delve deeply, to study the myriad ways of knitting a mitten thumb, turning a heel, or simply casting on. But the best part of teaching is catching the "ah ha!" lightbulb moment as a student suddenly grasps a new concept.
To make my students successful, I aim to:
accomodate each knitter's knitting style, learning style, and skill level
adapt the class material to meet the particular interests of each group
provide comprehensive, illustrated handouts for use in class and at home
leave plenty of time for hands-on practice
Does one of the classes below intrigue you? See if it's currently listed on my schedule. Or contact me to schedule workshops for your yarn shop, guild, or fiber festival.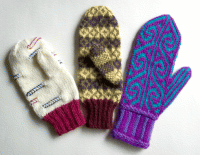 Mittens are great portable projects. Since they don't require much yarn, they're also great stash-busters. The only tricky part is the thumbs. Learn a handful of thumb options in this class, from the simple to the anatomically correct.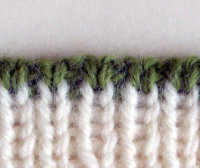 Creating a firm and sturdy bind-off edge is child's play: you just keep a secure grip on the yarn as you bind off. But what if you need some other kind of bind-off edge? Take this class and learn about supple and seamless bind-offs for sock tops, bind-offs that blend into ribbing, and decorative bind-offs.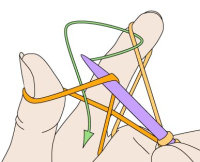 Dozens of cast-on techniques exist: one-strand or two-strand; loose and flowing or elastic and springy; invisible or decorative. Review your options in this class—try variations on old favorites, and discover entirely new options. Best of all, gain the familiarity you need to choose just the right cast-on for your next project.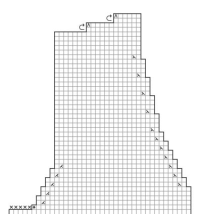 Being able to read charts is only half the story. Take this class and learn to write charts: to visualize written instructions, to convert between flat and in-the-round knitting, and to plan shaping. Use charts to demystify phrases like "at the same time," "reverse shaping," and "shape in pattern."
Charts Made Essential was formerly known as Chart Writing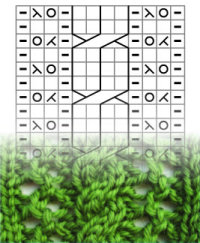 The symbols of a chart take the place of written instructions, telling you what stitches to work. But a good chart does so much more, showing you what the knitted fabric should look like. In this class, you'll learn to read charts, making sense of their symbols and using them to keep your knitting on track and to minimize mistakes.
Charts Made Simple was formerly known as Chart Reading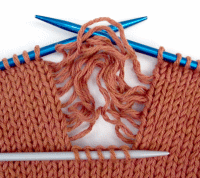 Mistakes happen. Fortunately, knitters have an array of techniques for dealing with mistakes. Learn when and how to tink, drop, and frog. See how duplicate stitch can cover over goofs in colorwork. And pick up tips for avoiding mistakes in the first place.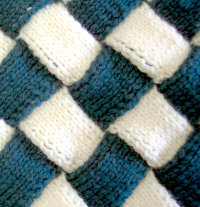 Entrelac fabric looks like strips of knitting woven over and under each other, but it's really formed of individually-knit diamonds. No sewing is required: you join the diamonds together as you knit them. In this class, you'll learn to form the basic units of entrelac: base triangles, side triangles, left- and right-leaning diamonds, and top triangles. You'll also pick up tricks like knitting back backwards, and methods for sizing and shaping entrelac fabric.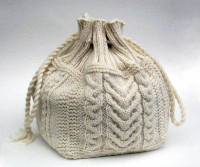 Cables and other twisted knitting stitches make for some of the most captivating knitting patterns. Though they look intricate, they are surprisingly easy to create. Learn how while knitting samplers that you can later turn into a drawstring tote bag. Along the way, you'll pick up tips for reading charts, reading your knitting, and fixing mistakes.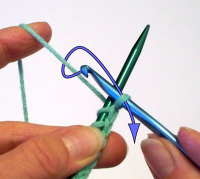 Maybe you've used a crochet hook to bind off, or to pick up a dropped stitch. But have you used one to join pieces together? To cast on provisionally? Or to stabilize an edge and provide a place from which to pick up stitches? Learn all of these techniques, plus embellishment, decorative edgings, and more.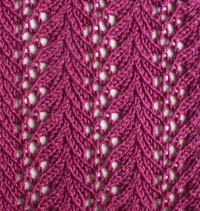 Yarn overs matched with decreases: that's all lace is. But an incredible variety of lace patterns stems from the way a handful of decrease stitches are placed in relation to their matching yarn overs. Learn how to work these decreases, how to knit into a yarn over, and how to keep track of your lace knitting while working some sample swatches. Pick up tips for choosing appropriate yarn and needles, handling mistakes, and blocking.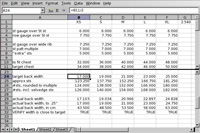 What's the best way to manage all the numbers in a pattern? With a spreadsheet! Learn spreadsheet basics for organizing gauges, measurements, and notes. Make friends with functions and formulas for determining stitch counts, figuring sleeve increases, estimating yardage requirements, and more. Pick up tips for ensuring your patterns are as error-free as possible.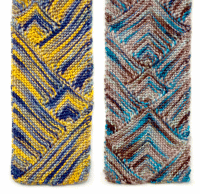 Turn variegated yarn into striking scarves with this new form of multi-directional knitting. Learn to form triangles and diamonds from a continuous length of yarn, and to join them together without sewing any seams or picking up any stitches.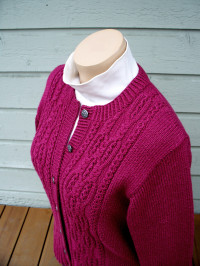 Set-in sleeves give a sweater a crisp, tailored look–and for easy knitting, you just can't beat sleeves knit from the top down. Pick up stitches from the body, shape the sleeve cap with short rows, and you avoid the bulk of a seam and the fuss of easing a sleeve cap into an armhole. Learn to adapt an existing pattern to this approach, or to design according to your measurements.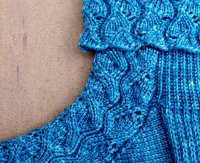 You can use nearly any stitch pattern for ordinary socks. But for fantastic socks, you need stitch patterns that have enough "give" for a snug but comfy fit, that allow for easy re-sizing, and that flow seamlessly into coordinated stitch patterns on the cuff, heel, and toe. Take this class to explore Socktastic patterns, to learn what makes a pattern shine in hand-painted yarn, and to see how to combine basic building blocks and tweak existing patterns to come up with your own Socktastic creations.
---