Those of you that know Myra Wood know that she's exceptional in oh so many ways: Her creativity. Her skill in creating free-form works of art in knitting, crochet, and beading. Her exquisite color sense. Her generous teaching spirit. And, most recently, her incredibly positive attitude while dealing with breast cancer.
So when a group of us decided to make her an afghan, I felt a little antsy. The parameters were clear: create a strip 8″ wide and 10′ long, out of HiKoo CoBaSi DK. But how was I supposed to do that? What sort of contribution would be appropriate, keeping the amazing recipient in mind?
You have to understand, I don't do free-form work. I like a fairly clear idea of where I'm headed before I set out. So, initially, I considered knitting a long strip using multi-directional scarf techniques. But that idea fizzled out in the planning stages: I couldn't figure out how I wanted to arrange the triangles and diamonds. I couldn't see where to put the various colors. Trying to pin down a design left me stymied and frustrated.
Next I considered a series of small crocheted squares. A handful patterns, each done a few times with different color schemes… yeah, that could be fun. Even a little improvisational. I got out my stitch dictionaries and starting playing around. But after crocheting a few squares, each a little different in size, I considered the hassle of ensuring they'd all add up to a strip of the right size. Um, no, thanks.
Staring at those first few squares, I contemplated a new design plan: Create nine 8″ squares, each with a crocheted motif at the center and – here's the kicker — a knitted lace border. I've been playing with lace wedges lately, so why not? Knitted rows tend to be shorter than crocheted rows, and so with a repeated lace pattern, I figured I'd have a decent chance of making all nine squares the requisite size.
That's when I set down a couple more rules for myself:
The crocheted center would be different for each of the nine squares. Ditto the lace border.
Each crocheted motif would use a variety of colors, but each lace border would be a single color.
Now the project got seriously fun. It wasn't completely planned, but it wasn't free-form either: the project had just enough structure that I could pick a crochet motif out of a stitch dictionary, and pick colors that would work for that motif, without worrying about the other motifs or their colors. I could pick a lace pattern for a square, without worrying about which lace patterns I'd use for the other squares.
Larger crochet motifs warranted lace patterns with a smaller repeat, so a decent number of lace repeats would be visible: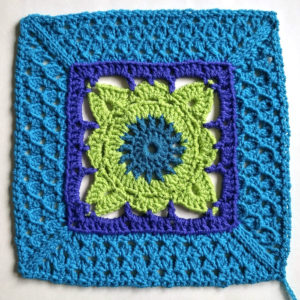 On the flip side, the smallest crochet motif made it possible to use a lace pattern with a fairly large repeat: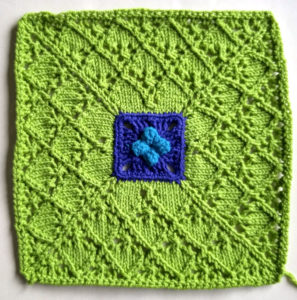 A vibrantly colored center could be paired with a more subdued border: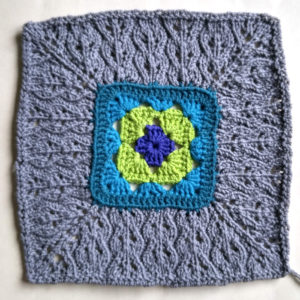 Each lace border was worked into stitches picked up in the back loops of the final round of a crocheted motif, creating a tiny frame of front loops around the motif. Likewise, ending each border with a p2tog bind-off created a tiny frame of purl bumps: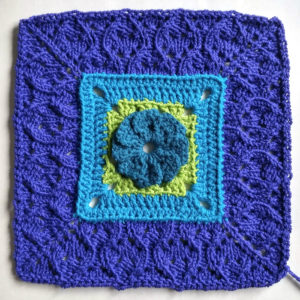 And those purl bumps meant that if I reached the end of a lace motif before getting a square of the right size, I could just add in a few quiet rows of garter stitch: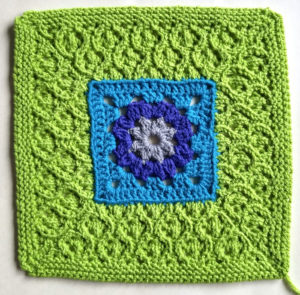 In the end, not all of the squares were that exciting: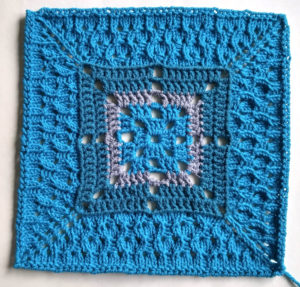 But I liked the textures I was seeing: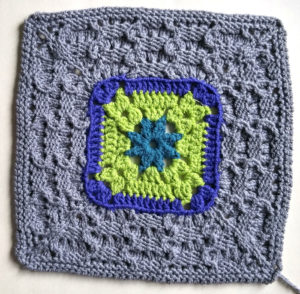 And I really liked how this very circular crochet motif paired with this lace pattern full of strong diagonals: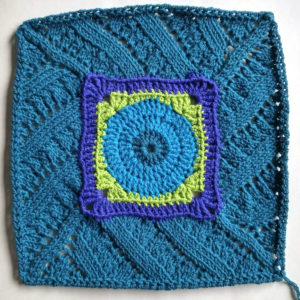 And a serendipitous outcome: the way the undulating rows of Traveling Vine pulled this crochet center into an undulating shape of its own: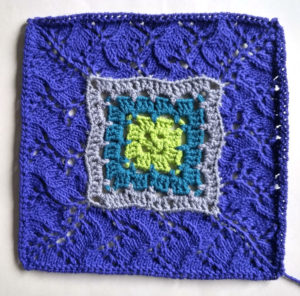 Once all the squares were done, I used their tails to sew them together, ensuring that no two squares of the same border color were adjacent: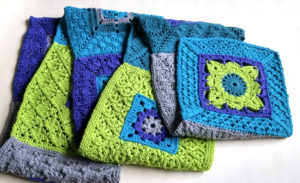 And that was that, except of course for joining all the strips together and giving the afghan to Myra. It would seem that she liked it. And she says she was able to guess who did each strip. I wonder what gave mine away?
---