Want to know a little about me?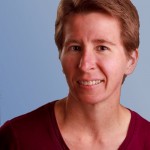 Read on.
Knitter
I don't spin, dye, or weave. I'd like to, but each day only has 24 hours and knitting alone offers countless avenues of exploration. I do crochet a bit on occasion, though, and sometimes like to incorporate that into my knitting.
Puzzle solver
That's a polite way of saying I don't always accept the standard way of doing things. Instead, I like to ask questions, probe beyond the surface, and figure things out for myself. Which cast on method really is the most stretchy? How do you knit sock heels and toes that really fit?
Chart fanatic
Words are fine, but I'm visually oriented and I think in pictures. It's no surprise, then, that I'm a nut for charts. This chart fanaticism has led to Charts Made Simple and Stitch-Maps.com.
Technique freak
Or you could call me a skill junkie. I collect knitting techniques like some people collect stamps, except I actually use those techniques.
Teacher
This is an after-effect of being a technique freak, I suppose. Doesn't everyone want to know a handful of ways to start a circular doily? How to hand-wind a perfect ball of yarn? "Of course they do," my subconscious says. Fortunately, my conscious knows effective teaching doesn't happen by accident, so I actively work on my teaching skills. I recognize that different students have different learning styles, and try to adapt to match each student's needs.
Designer
I never set out to be a designer, really. But when I started knitting, I didn't know most knitters bought patterns. I had a book that explained how to design, so that's what I did. And I've been designing since.
Yarn snob
You can keep your frou-frou novelty yarns; your squeaky synthetics; your lightly-twisted, short-staple, pill-producing nightmares. Give me minimally-processed natural fibers; spin them firmly into a yarn with stitch definition and staying power. Let the knitting take center stage, be it lace, cables, or colorwork.
Unconventional knitter
I wrap "the other way" when I purl, and I like it that way, thankyouverymuch. I dare you to tell me my stitches are twisted, or my knitting is wrong.
Not afraid of fine gauge
Sweaters in fingering-weight yarn? Bring 'em on!
---