Did you know that a Craftsy class gives you 24/7 access to HD video lessons and supplementary class materials? You also get to ask questions in a "virtual classroom." Here are my Craftsy classes: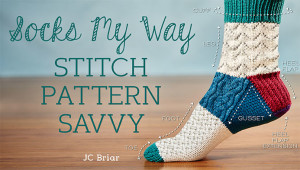 This class includes seven lessons for learning to create custom sock designs:
Getting started: What are "socktastic" stitch patterns? How do you read a chart?
Understanding Sock Anatomy: What are the parts of a sock? How can you fill them with custom stitch patterns?
Spotting Patterns with Potential: Where do you find stitch patterns suitable for creating eye-catching, well-fitting socks?
Mixing Basic Stitch Patterns: How can you create custom stitch patterns by combining and tweaking basic stitch patterns?
Test & Refine Your Ideas: How do you ensure your custom stitch patterns will behave as you want?
Beautiful Transitions: What are your options for transitioning smoothly from one stitch pattern to another?
Planning for the Perfect Size: How do you figure out how many stitches to cast on?
These lessons apply to any kind of sock construction. But the class also gives you a basic sock recipe, in case you don't already have a favorite of your own. Or you could take Lara Neel's companion class, Socks My Way: Heel & Toe Variations – it covers many sock shaping options.
---