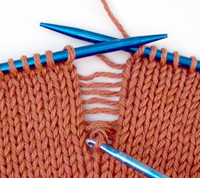 Experienced knitters know how to recover from mistakes. You, too, can be an experienced knitter. Learn the three essential recovery techniques: tink, drop, and frog. Practice on swatches and in simple situations to gain the confidence needed to tackle bigger disasters, and the ability to judge which technique to use when.
Tink Drop Frog is a quick, 90-minute class. Compare it to the three-hour Disaster Recovery.
Duration:

90 minutes

Skills required:

basic knitting experience

Materials:

smooth, light colored, worsted-weight yarn; needles of a size appropriate to your yarn, and spare double-point or circular needles 1 or 2 sizes smaller; crochet hook; tapestry needle; waste yarn

Homework:

Cast on 20 sts. Knit in stockinette stitch for 4″ (10 cm). Do not bind off.
---