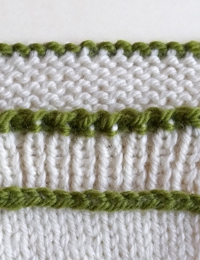 How do you keep your bind-off edge from being too tight? With a stretchy bind-off! Try options with bigger bind-off loops, with more elaborate loops, and simply with more loops. Learn about sewn bind-offs, sideways bind-offs, and bind-offs that use a crochet hook in novel ways.
Stretchy Bind-offs is a quick, 90-minute class. Compare it to the three-hour Bind-off Bonanza.
Duration:

90 minutes

Skills required:

basic knitting experience

Materials:

smooth, light colored, worsted-weight yarn; needles of a size appropriate for your yarn; a crochet hook, roughly the same size as your needles; a tapestry needle

Homework:

Create 3 swatches in stockinette, 2 swatches in k1, p1 rib, and 1 swatch in garter stitch, as follows: Cast on 12 sts (or more, if you like). Work even for 1″ (or more, if you like). Cut yarn, leaving a tail at least 24″ (60 cm) long. Place sts on stitch
holder or spare needle.
---