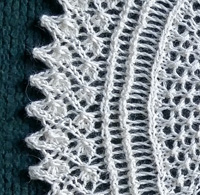 Adding a lace edging is a sweet way of topping off shawls, scarves, socks – or any other kind of project! In this class, you'll learn where to find edging patterns, and how you can customize them. You'll pick up tips for working tricky stitches – such as yarn overs at the beginning of a row — and for blocking. We'll go over multiple options for attaching edgings, and you'll have the chance to practice on a sample piece.
Duration:

90 minutes

Skills required:

must be comfortable knitting lace; experience reading charts helpful but not required

Materials:

fingering-weight, DK-weight, or laceweight yarn (please do not select laceweight if you have never used it before!); needles of a size appropriate for your yarn

Homework:

Cast on 30 sts. Work even in garter stitch for 2″ (5 cm). Do not cut yarn.
---