It can be a little weird to teach a class while knowing that another teacher is scheduled to teach essentially the same class at the same event. For instance, I'm not the only one that teaches seamless set-in sleeves or introductory lace at Stitches events. And if I recall correctly, the last Sock Summit featured three classes on writing sock patterns. How does a student choose which to take?
Weirder still is teaching a basic entrelac class while knowing that Gwen Bortner, the Entrelac Queen and author of Entreé to Entrelac, is out teaching fabulous entrelac classes. Seriously? Now that Gwen has a new Entrelac Knitting class at Craftsy, I might as well fold up my basic entrelac class.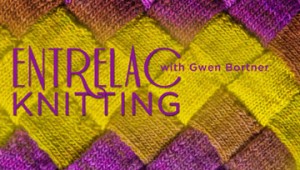 Have you ever checked out Craftsy? I hadn't, not until Gwen asked me to review her class, and now I can see I was missing out. Craftsy's online classes are pretty sweet. Sign up for a class, and you have access to hours of HD videos. And these videos have some really neat features. Need to watch the last little bit over again, because your attention wandered (like mine does)? With a single click, you can go back 30 seconds. Need to watch a section over and over? You can loop over a chunk of whatever length. Want to "bookmark" a section? You can add your own notes to a video, at any point in time, then revisit that note later.
But a Craftsy class is more than just videos. It's also an opportunity to build a community by sharing project photos, and by posting questions and answers alongside the videos. In a way, it's like an in-person class where you can see what everyone else is working on, and where you can raise your hand at any point in class and ask for clarification… only a Craftsy class is better in that you can skip ahead if you like, or watch any portion of the class as many times as you like. And you can do this forever: once you've signed up for a class, you have access to it anytime you have Internet access.
No surprise here: Gwen's Craftsy class is project-based. Gwen and I have discussed the merits of project-based vs. pure technique classes more than once over the years, and she comes down firmly on the side of projects designed to teach specific skills. In Entrelac Knitting, she makes the most of this approach with three well-planned projects: a fun, fast neck-warmer that gets you started with basic entrelac units and seamless entrelac; an infinity scarf that teaches new tricks through units made of textured stitch patterns; and a cape that introduces flat entrelac and shaping techniques. Together, the three projects lead you through a progression of skills, from easy to more advanced. Throughout, the video lessons and accompanying PDF downloads are clear, detailed, and chock-full of tips that apply both to the task at hand and to your knitting in general.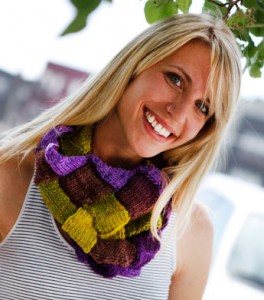 So, if you've ever been curious about entrelac, what are you waiting for? Oh, that's right: a discount just for you, my lucky blog readers. There, now you have no more excuses; pick up your needles and give entrelac a try!
Comments are closed.
---